Peat Fires Across the Arctic
Large swathes of peat are on fire around the Arctic Circle. Parts of Siberia, Alaska, Greenland and Canada are engulfed in flames and smoke. Many are large enough to be seen from space. They are not only caused by global warming but they will themselves contribute significantly to it.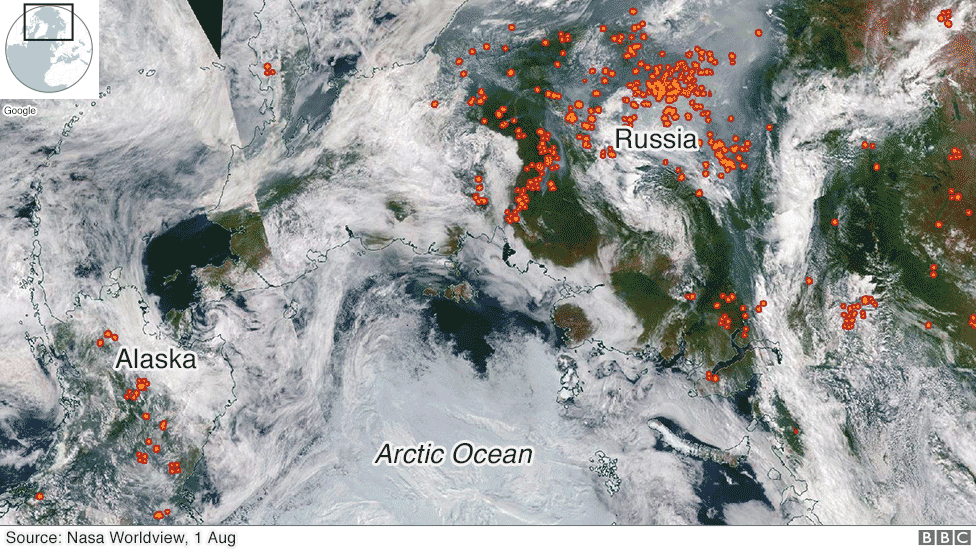 The World Meteorological Organization (WMO) said wildfires began at the start of June. Russia's Federal Forestry Agency says more than 2.7m hectares (6.7m acres) of remote forest are currently burning across six Siberian and eastern regions. Greenpeace Russia estimates 3.3m hectares are burning – an area bigger than Belgium.
Smoke blots out the sun in major cities like Novosibirsk, making it difficult to breathe. The smoke has spread to Alaska and parts of the west coast of Canada. Originally Russian authorities said they were not planning to tackle wildfires in remote uninhabited areas because they were no direct threat to people.
Smog has prompted hundreds of thousands of people to sign a petition calling for tougher action. As a result parts of the republics of Buryatia and Sakha (Yakutia) declared states of emergency. Ten planes and 10 helicopters with firefighting equipment have now been deployed to the regions.
In Alaska 105 large fires burned more than 0.7m hectares (1.78m acres) during July. Wildfires are common in the northern hemisphere between May and October, but the location, intensity and duration has been particularly unusual this year.
These fires are caused by rising temperatures in the Arctic, which have been increasing twice as fast as the global average. Warmer conditions encourage fires to grow and persist once they have been ignited. Extremely dry ground and hotter than average temperatures, combined with lightning and strong winds, have caused the fires to spread aggressively.
The fires contribute to global warming in at least 3 ways.
They emit large amounts of CO2, an estimated 100 megatons between 1 June and 21 July, about the same as the annual carbon output of Belgium.
The soot falls onto ice and snow, absorbing sunlight instead of reflecting it, so warming the atmosphere and melting the ice even faster.
Peat take hundreds or thousands of years to form, so the lost peat is not going to be replaced anytime soon.
Peatlands are the largest natural terrestrial carbon store on Earth and peat fires are very difficult to extinguish. When peat is wet, it's up to 95 percent water, but as it dries it condenses, turning into one of the most flammable substances in nature. It burns slowly for a long time and because it is buried in the ground it needs huge amounts of water to extinguish the flames.
Sources